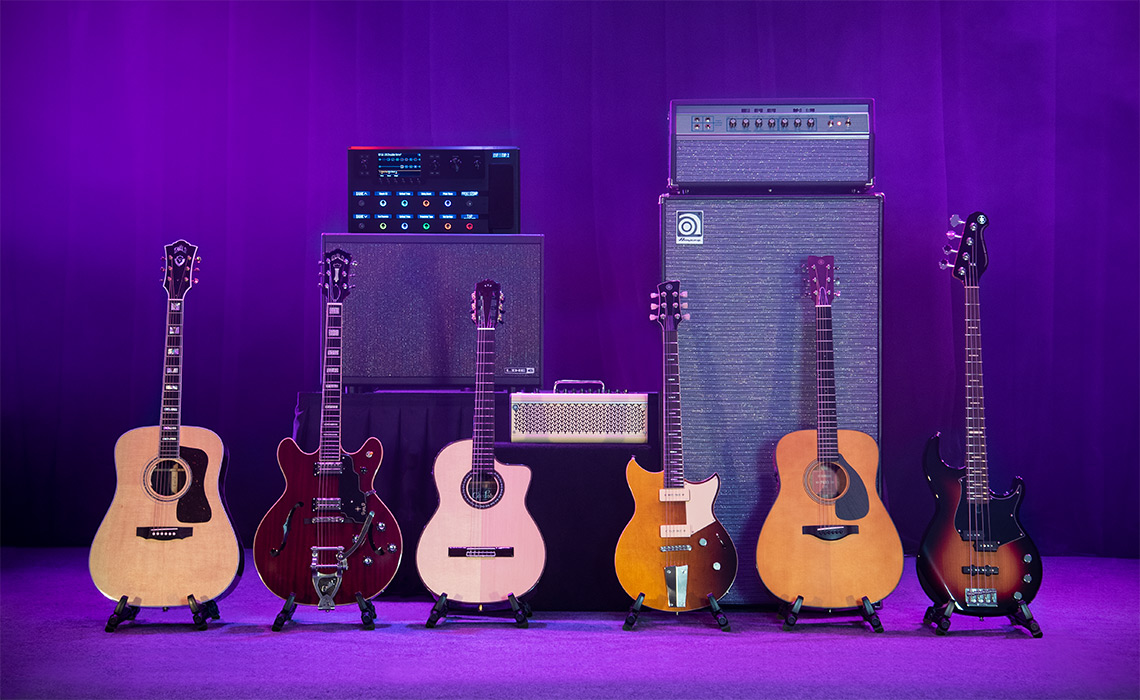 ABOUT YAMAHA GUITAR GROUP, INC.
Yamaha Guitar Group, Inc. is committed to providing the best products for guitar players through several distinct brands: Yamaha®, Line 6®, and Ampeg®, as well as the brands of Córdoba Music Group: Córdoba® and Guild® guitars, HumiCase® instrument cases, and DeArmond® pickups.
Yamaha began making classical guitars in 1941 and later introduced the legendary FG180 acoustic, a forefather of the FG series. Since then, Yamaha has created class-leading instruments, including the Revstar®, SBG and Pacifica® electric guitars, BB basses, APX electro acoustics, the unique Silent Guitar and the TransAcousticTM guitar.
Line 6 is known for products that leverage groundbreaking digital technology. With a long history of firsts, Line 6 has a proven track record in defining new product categories for guitarists. The best-selling flagship Helix® family of amp and effects processors has achieved enormous success, receiving numerous accolades and awards along the way. More recently the innovative line of Catalyst® guitar amps and the reimagined DL4TM MkII delay pedal help to round out a wide variety of offerings from Line 6.
Ampeg has produced some of the music industry's most innovative amplification products including the first bass combo amp, the first guitar amp with reverb and the de facto stage bass amp, the SVT®. Since the 1940s, Ampeg has offered unique and often first-to-market features and performance capabilities, resulting in six U.S. patents under the Ampeg brand name. Recent offerings include the HeritageTM 50th Anniversary SVT flagship amp, the powerful and practical Rocket Bass® line, and the forward-thinking SVT Suite plugin.
Córdoba Music Group is a leading manufacturer and distributor of acoustic and electric guitars, ukuleles, basses and musical instrument accessories. CMG's brands include Córdoba Guitars®, Guild Guitars®, DeArmond and HumiCase, which are internationally distributed and used by musicians around the world. Other CMG brands include Savarez®, and Aquila®, of which CMG acts as primary importer and U.S. distributor to retail stores. The company's corporate headquarters are located in Santa Monica, CA, and distribution and manufacturing facilities are located in Oxnard, CA.